It is the first and only preeminent hacking application for accessing and unlocking the accounts of professionals and pro players who have already been hacked or stolen in the game. Hence, you can recover such accounts using Robar Cuenta Por ID FF. Once you have retrieved these accounts, you can use them in your game.
There are unlimited hackers sitting in the free fire, who commit immoral acts to hack professional & professional players' accounts and so they succeed in their goal. Players also lose their well-ranked accounts. Robar Cuenta Por ID Free Fire is a highly developed application that enables you to retrieve such accounts without having to use any hard practices.
You can recover your account if it has been hacked by following the instructions in the application. It's easy to use this application. Just follow the simple steps below. In addition, if you lack gaming products, a power account will make you the winner. The digestion process is completed in both cases.
The latest version! Do you want to reinstall your hacked free fire account? If so, there is hope for you. I would recommend you download Roba Cuentas Con ID APK and test it on your Android phone.
This is a tool that will make it easy and hassle-free for you to get back your Garena Free Fire accounts. So you can download this app on your Android phone and try it. I will tell you how to use and recover free fire accounts by hacking data by ID. You can also download Data Hack by ID for your Android smartphone.
What is Recuperador De Cuentas De Free Fire APK?
The Roba Cuentas Con ID APK is a tool created by Garena Freefire, but can also be used to improve your Facebook account. However, it is primarily made for FF and you can only log in to accounts and get credentials. You need to remember that it is designed for legal and ethical purposes.
PlexDZX APK can also be used for unethical purposes. However, the purpose of this app is to give hackers hope for those who have lost their FF ID. Therefore, you can use this account to log in to your accounts and access your funds.
This tool enables you to use data hacks using ID technology. So use this account ID and wait a while for the tool to provide both email and password. Once you do this, then there are some surveys that you need to pass and complete.
After completing these surveys or assignments, you can download the email and password. However, you have the same option as your Facebook account. But at the moment it doesn't work or it storms users.
So you can try the tool yourself and let us know if it works for you. I will share the one-click download link at the bottom of this page. The second link is after the first paragraph of this article.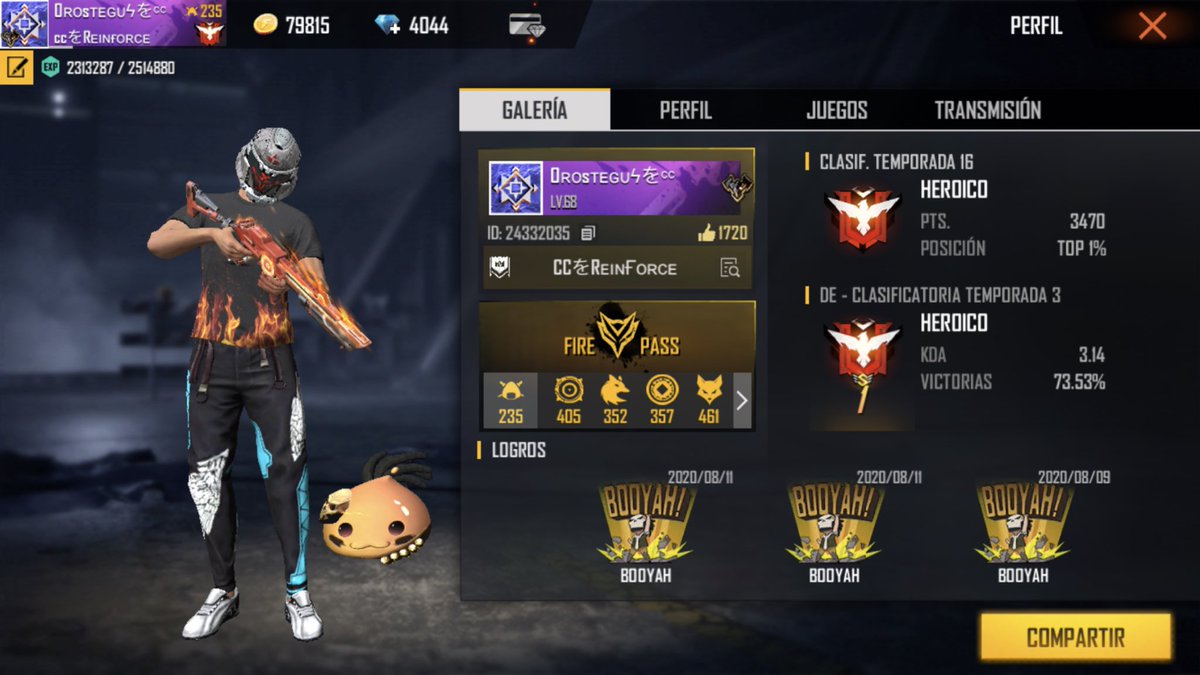 Features of Recuperador De Cuentas De Free Fire APK
The following are some of the most important features of this application.
Stolen Free Fire account with user ID.
This app allows you to steal another Garena Free Fire player's account by using only their ID. It is possible to steal this account and use its advantages and special objects, or simply to disqualify the other player with this trick. It may seem unfair if you perform this type of trick on innocent players, but it is a way to redress the balance if it is performed on players who have cheated others in the past.
Change your IP address
You have the option of masking your location with this application if you don't want anyone to be able to identify you while playing.
Therefore, you will be able to switch between accounts without anyone knowing who you are, which also protects you from being caught when you steal from your rivals.
Disconnect from your enemies
To gain an advantage in a Free Fire game, it may not be necessary to use a gimmick. Oftentimes, it is enough to disconnect one of the opposing players to prevent him from winning. I think it's a dirty trick, but maybe they are using tricks themselves. Consequently, you can disconnect them from the game to improve your position.
Hide your IP address
in order to remain anonymous while using your cheats.
How to Download and Install Recuperador De Cuentas De Free Fire APK?
Recuperador De Cuentas De Free Fire APK is easy to download on your phone. We have created a simple guide that can assist you in downloading it for free.
Step 1 – Download Button
First of all, you have to click on the download button provided by us. Now you have come to the download page, you have to wait a few seconds, then click on download, the apk will start downloading automatically.
Step 2 – File Manager
Click on the download button to begin downloading. Go to your file manager and search for the apk file.
Enable Unknown Source: Third-party applications need unknown source settings to be enabled before they can be installed. Any third-party application on Android cannot be installed without enabling the unknown source settings.
Step 3 – Install the Application
Now tap on that APK file of Recuperador De Cuentas De Free Fire APK you have downloaded. Once you do that you will have your application installed.
Step 4 – Let's get started!
You will now have a Recuperador De Cuentas De Free Fire APK icon on your phone. Simply tap on it to begin using it.
How can I hack data?
This way you can get your ID back. If you haven't used the Robar Cuenta Por ID App before, here are the steps to follow. So don't miss any step or the app may not work for you.
Frist, open the Recuperador De Cuentas De Free Fire APK and enter the password for the Recuperador De Cuentas De Free Fire APK.
Once you have entered the password, click on the Login Gin option.
Now you have two options: Hack Facebook ID or Free Fire ID.
Choose an option that you want to hack.
After that, click the Hack button.
Select a browser now to continue the process.
After that, enter the URL of the FF account or Facebook account again.
Then click the hack button and wait a few seconds.
You will now receive the data.
Now fill out the survey mentioned there and download the details.
You can now access your hacked accounts.
Frequently Asked Questions
Is Recuperador De Cuentas De Free Fire APK Free?
Yes, it is a free app, and the users won't be charged for using it on their phones or other devices.
Can I download Recuperador De Cuentas De Free Fire APK legally?
Yes, it is a safe and legal application, even though it is free to use. It has plenty of excellent features.
Why does Recuperador De Cuentas De Free Fire APK not work?
If your app is outdated or not updated to a new version, it may not work properly. So you can update the app today to ensure it works properly and smoothly.
How Do I Update Recuperador De Cuentas De Free Fire APK?
Recuperador De Cuentas De Free Fire APK is from a third-party developer, so an automatic update won't be available. You will need to manually update the app by removing the old version and installing the new version.
Is my Android device required to have root access in order to install Recuperador De Cuentas De Free Fire APK?
No, Rooting is not required to install Recuperador De Cuentas De Free Fire APK. This app doesn't require special permissions. So, you can install and use the app without rooting your device. However, if your device already has root access then you can also use the app without any difficulty. It provides the same features and interface to both rooted and non-configured devices.
The Advantages and Disadvantages of directly downloading the Recuperador De Cuentas De Free Fire APK?
Pros:
The application is safe and secure.
You can easily install and use the app.
Third-party ads are not available.
It is free to download and use.
Cons:
They will not automatically update.
Google does not always verify them.
Conclusion
Did you know that the Google Play Store has no compatibility with Android phones and tablets? Don't worry if you don't have the correct Android phone or tablet to run this Recuperador De Cuentas De Free Fire APK, because at APKLUST we offer the most secure and accurate alternatives for you. Get the latest Recuperador De Cuentas De Free Fire APK version from our website. Download now!
We've brought you your favorite games and apps. We always share high-quality apps and games. You can download additional apps and games for free from this page and our website. When you're ready, download the latest version of Recuperador De Cuentas De Free Fire APK for your Android phone. Please note that we are only releasing the original and free APK version of Robar Cuenta Por ID APK without any modification.
All apps and games here are downloaded directly from the Play Store and for private or private use only. If Recuperador De Cuentas De Free Fire APK infringes your copyright, please contact us, we will remove it shortly.